I recently had an experience while walking my little dog. She is a small, white, fluffy thing that I inherited. Before she came to me she had a history of being a rescue, which really means we don't know what she experienced in her life prior to living with me.
So, in the past five years, I have taken note of her skittish behavior. She has been frightened by bigger dogs. I have always protected her by crossing the street or standing off to the side to let them pass. I used to just tell myself and others she just doesn't like big dogs, and that's that.
Little Changes Can Embolden Us to Step Outside of Our Assumptions or Comfort Zone
But lately I have seen her more vocal. Not at other animals, but in the house. Sometimes she will bark or whine or sing. She just has a lot to say now, much more so than before.
So today while out for a walk I see a man and his big dog approaching. They are a long way off and as I see them I am faced with my own thoughts. I am conscious that I have in the past crossed the street. But this time I think there's plenty of space if needed, enough grass to move on to let the other dog and owner pass if necessary.
Trying New Things Opens You Up to Positive Experiences You Never Knew You Could Have
But on this day, I do something different. I just try and stay present, not worried about what might happen. As we approach the man and dog are so friendly they become our new friends. My little dog was just as curious about the boxer-bulldog mix as that dog was in her. They didn't worry about the size difference. They both just enjoyed their doggie encounter.
And I enjoyed talking to the dog's owner too. As we finished our visit and made our way home I remember looking over at my little dog and saying to myself, "Molly, you did so good!" And then it hit me. Linda, you did so good. You laid down your worry and your fear that something terrible would happen.
And by laying down my worry and my fear, my little doggie also laid down hers. She just followed my lead. Not the other way around. That's when I realized that all the years of my worry has caused the disconnection between Molly and other big dogs. There could have been lots more doggie encounters.
Don't Let Fear and Anxiety Keep You From Pursuing What You Really Want
I was in the way. I was protecting the animal who didn't even need it.
How many times can this happen in other relationships too? Do we carry worry and fear that something bad will happen so we protect another? But does our anxiety keep us separate from what we are really after? All of us, humans and animals, just want to connect. What stands in your way of connection with your favorite people. Could you be just as blind as me? Who knew it was me keeping my little dog from a lot of happy moments. Now I know, it was never her, it was always me.
---
Want to Learn New Things to Improve Your Relationship?
Read a Book About Relationships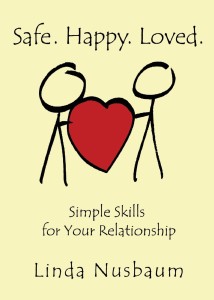 Want to improve communication and your day to day interactions with your loved ones? Try reading Linda's book, Safe. Happy. Loved. Simple Skills for Your Relationship. It just might help you meet one another's needs and enjoy each other even more than ever. Give it a read.
Get Couples Counseling
Come in for couples counseling. Couples counseling can help you and your loved one get the most out of your relationship. It'll equip you with coping strategies and tools for communication that can help you argue less and love more.